I've been a fan of Microsoft mouse devices for a while. I never liked the early two button ones, but when the IntelliMouse Explorer with IntelliEye came out...
...I was sold. Ever since I've bought Microsoft mouse devices. Once I strayed from the path and bought a cheap mouse for occasional use on a laptop, but it gave me so much trouble that I never did again. (Logitech mouse devices have never appealed to me...). I still have that mouse but it started acting weird at times after about five years I bought another; this time the
Wireless Intellimouse Explorer Black Leather
.
[Jump forward a few years]
In 2005 I started developing wrist pain; first in the right, then the left. (I'm right handed.) I do weight training so at first I thought it was due to that, but it soon occurred to me that it could be computer use related. On the assumption that it was Carpal Tunnel Syndrome I bought a splint, never used computers without it, and the pain reduced... but it never went away completely. I bought a
Natural Ergonomic Keyboard 4000
(which I think is great) but since I have used a
Natural Keyboard Pro
for years I didn't expect (nor get) much improvement. My left wrist did seem to improve after buying that, but it's hard to be sure. I used these solutions until 2007 when my brace started wearing out, and my mouse was too due to the splint rubbing on it. I decided to not buy another splint, instead I spent the same money on a new mouse; the
Natural Wireless Laser Mouse 6000
.
This mouse is designed to angle your wrist so there is less pressure on the carpal tunnel and wrist. I expected my pain be reduced by this, but I found that after a year of use it seems to have 90% solved the problem! I used to find before using this mouse that my wrist would be sore most of the time, even off the computer, now it tends to only get sore if I have been on the computer an extended period over a short space of time. I wouldn't say that I am cured, but I've been able to do weight training without any wrist pain now.
Here is the mouse today after a year of rather heavy use. It's odd to use at first but I become used to it after a week or so. There are other mouse devices that have a steeper angle which would be even better for the wrist. I've never used any of those as I've been unable to find one in a retail store.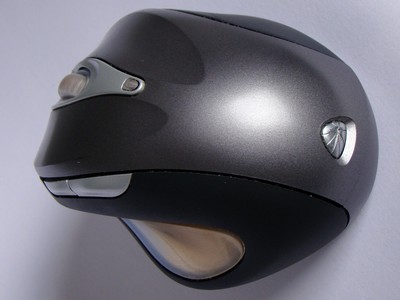 There is a battery light just below the wheel. It doesn't do much good for me though as I use NiMH batteries and I suspect that it's tuned to the Alkaline discharge curve. It tends to go on just as the battery goes flat... However, since the batteries tend to last me several months this isn't a big problem.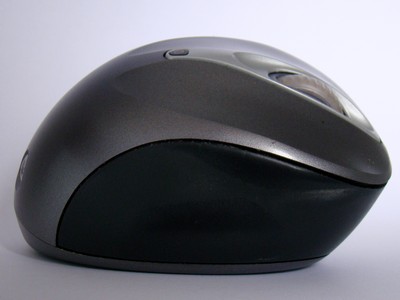 Not much to say here, so I just point out that the range for these, like all Microsoft mouse devices, is short. It's never bothered me, but if you plan to use it more that a meter from the receiver I'd look for a Bluetooth mouse.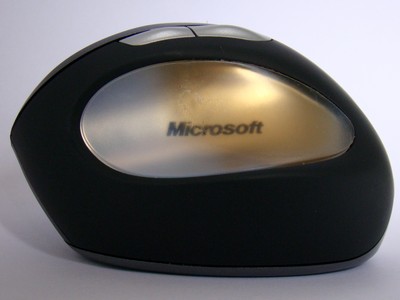 That foul yellow colour is probably cause by my excessive usage. I don't smoke or eat on my computer so it has to be general hand slime. Yuck.... I've tried cleaning it off but no luck. Where my thumb rests you can see some wear; it doesn't bother me when I am using it.
It's a LASER mouse. It seems a bit smoother than the LED ones, but I don't play games so it doesn't concern me much.
Overall, I'd like to recommend this mouse (or the 7000 that comes with the
Microsoft Natural Ergonomic Desktop 7000
) for anyone with (or hoping to avoid) computer usage related wrist pain. (Providing you're not left handed that is....) Oh, just in case anyone wonders, I haven't been to a doctor over this. Yes, I'm a dolt.
N.B. No use of "mouses"
or
"mice" in this post.