Set:
812 Gears, Axels & Bricks
Year:
1974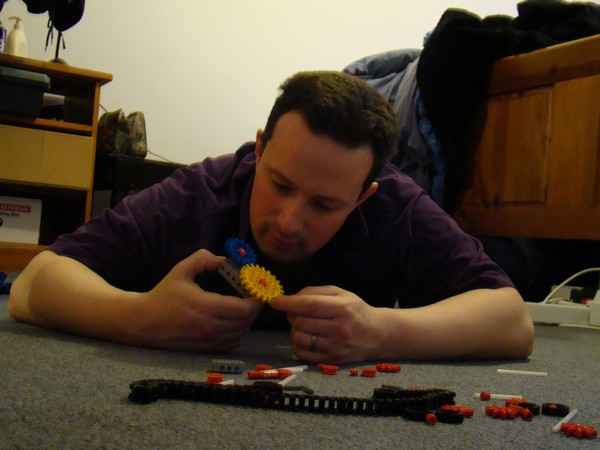 This is a set that I have long tried to find for a good price, and recently I bought a near-perfect copy on eBay for around $20 AUD! (Currently around $15 USD.)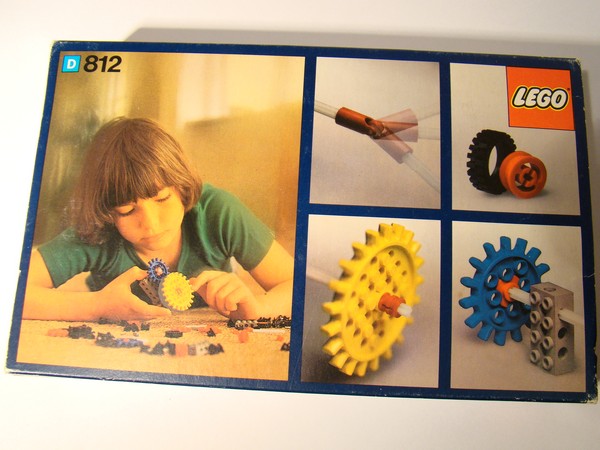 As a kid I had a copy of Ideas Book 222, and the last few pages featured models using parts from this set. (You can find the whole Idea Book on
Peeron
.) These gears were one of LEGOs first attempts of adding advanced function to models and I at last know first hand that they are actually quite good. In many ways the parts in this set are superior to the latter gears. Anyway, on to the review!
Part 1 : Parts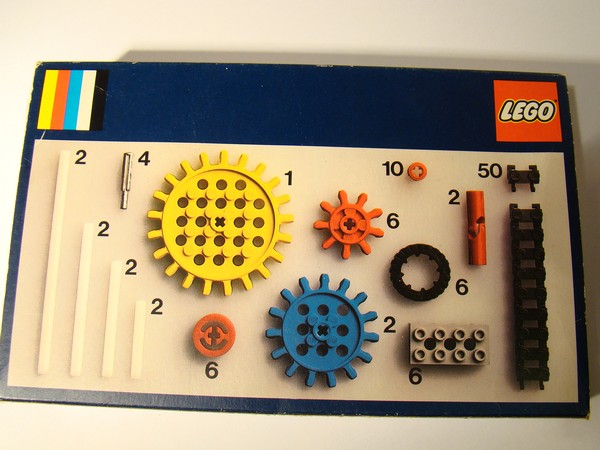 It's interesting to look at this photo; it's not very well taken by todays standards. It is however great to see the real part rather than a drawing.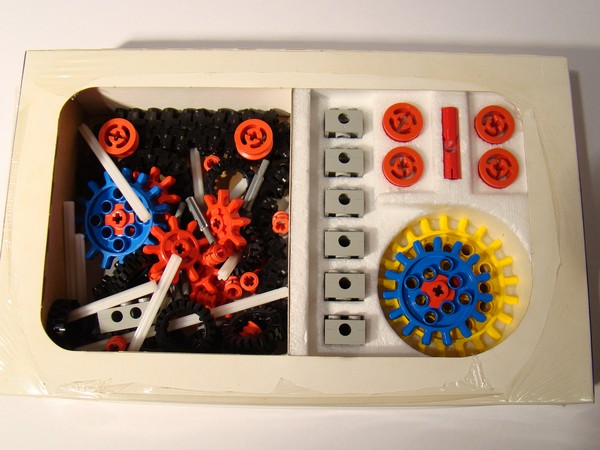 This box is great for presentation, but horrid in use; the axels keep sliding under the foam. I'll be moving this to another container soon.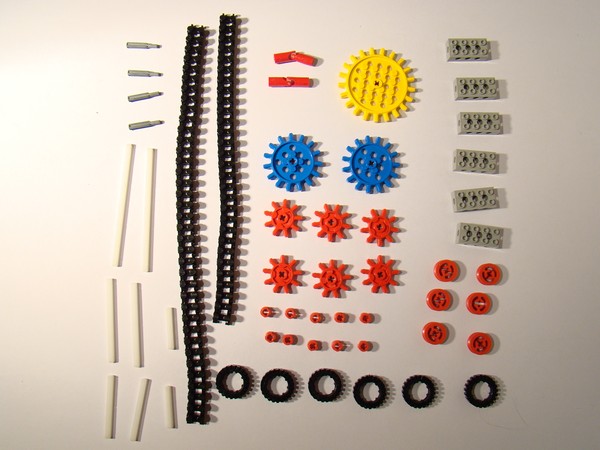 The complete set. In mine I had a few extras, but I'm not sure if they come with it so I didn't show them.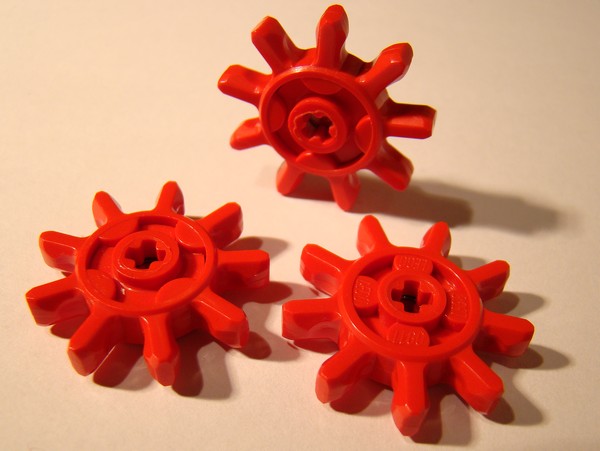 These are the small gears. The set came with six. Aside from gears, they have another purpose...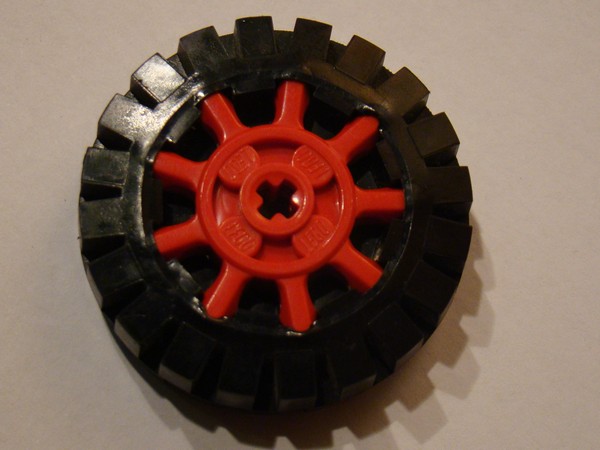 ...the hub of the old large wheels. (Not included in this set, or this purchase. Oddly I bought those with another eBay lot that had no gears...) The idea seems weird to me...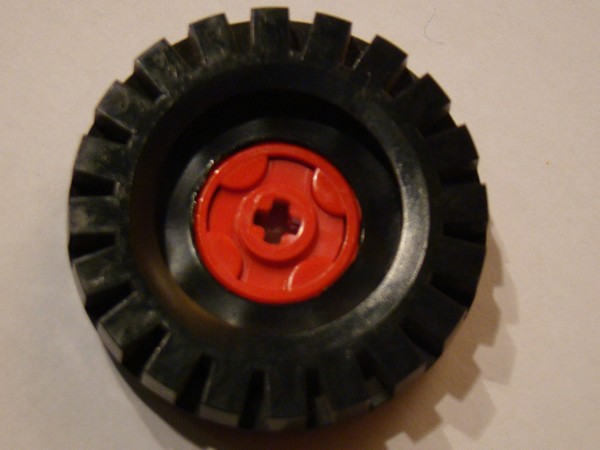 ...but once you get them in they look good. You wouldn't have much hub slippage with these!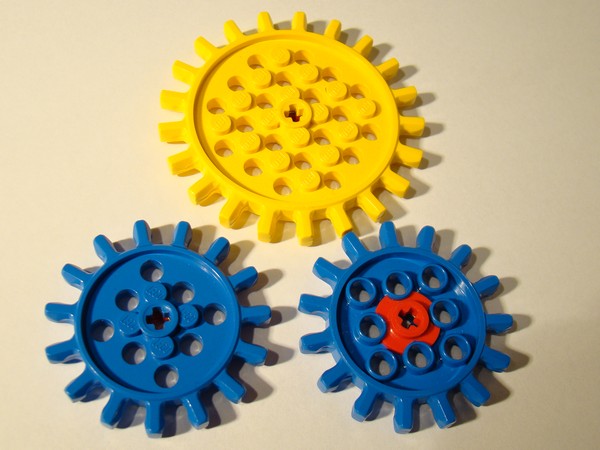 The rest of the gears. This is all you get from the set... and all I have. The yellow gear has some usable studs on top, but the ones on the blue are only good for 2x2 pieces without the central tube. The holes are the same size as standard axels, but are not good for pins as they are about 20% too short. Thus half pins don't lock, and full pins wobble.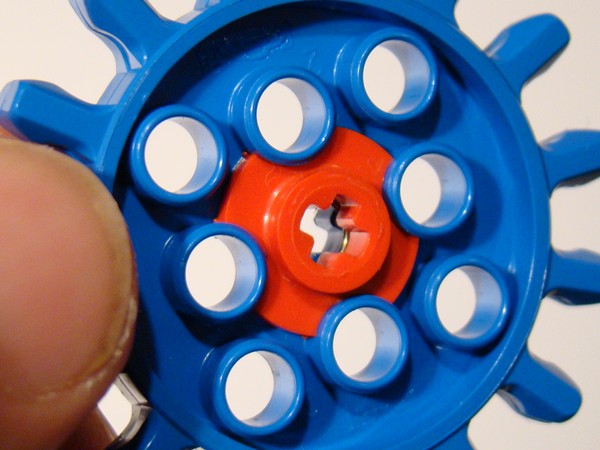 One of the special features that these gears have is a thin piece of metal that locks the gear onto the axel. It was hard for me to show this in a photo, but after many attempts here it is!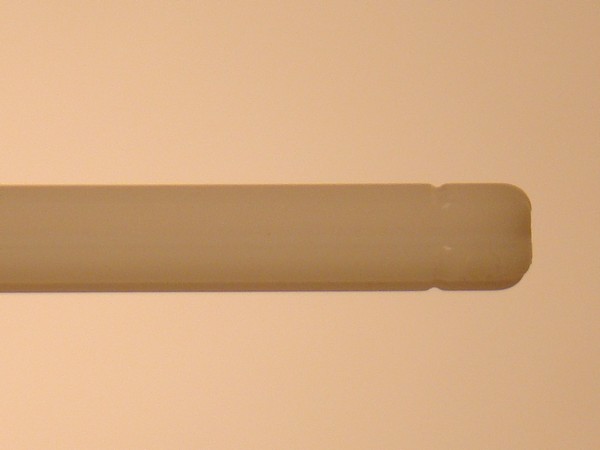 Each axel has a small notch at the end that aligns with this...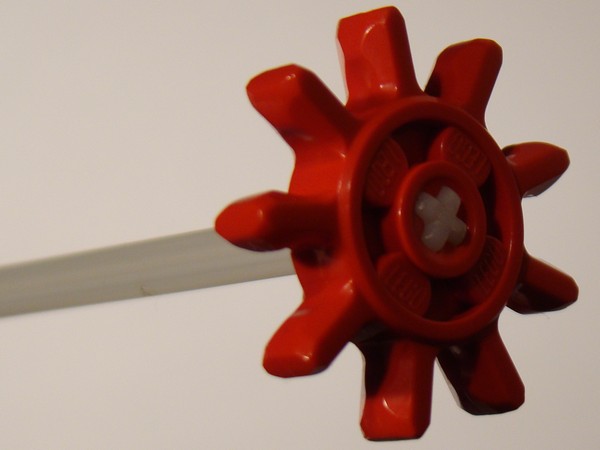 ...making brushes at the end of gears less necessary.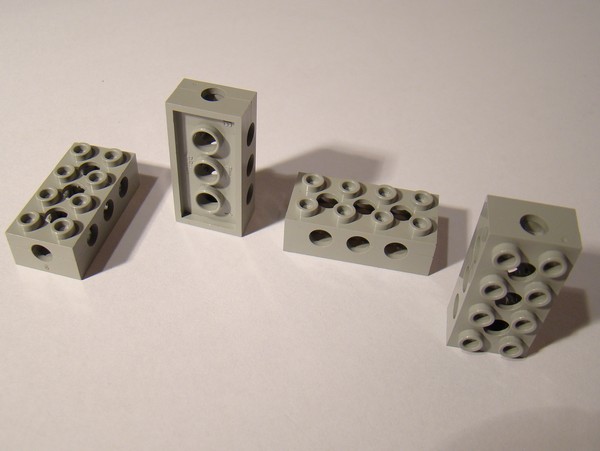 There were no beams at this stage, all LEGO offered was this Multipurpose Holy Block.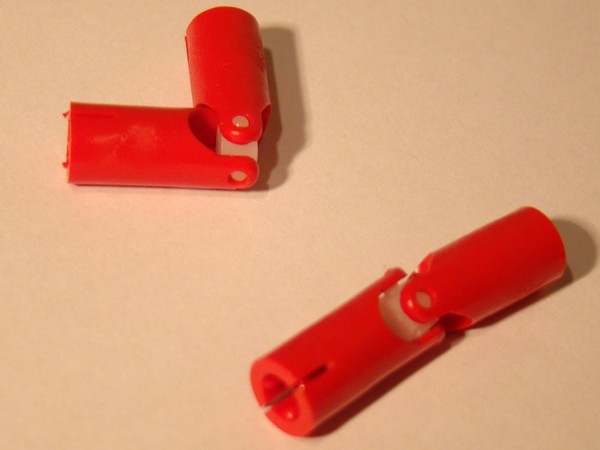 This set also featured the first LEGO universal joint...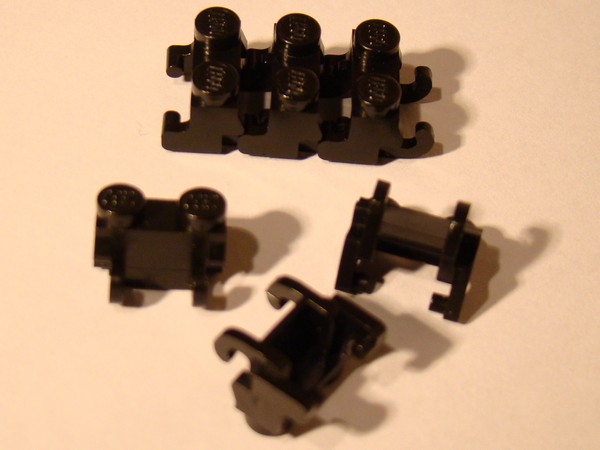 ...as well as the first tracks.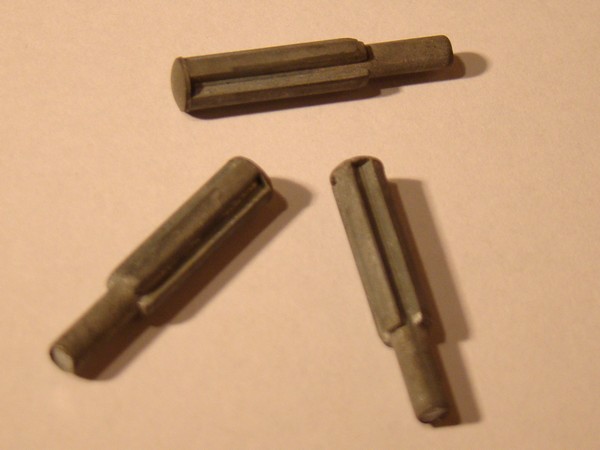 Oddly, this set also has metal motor->gear pieces. I would have thought it would make more sense to include these in the motor sets... but I'm not complaining!
Part 2 : Applications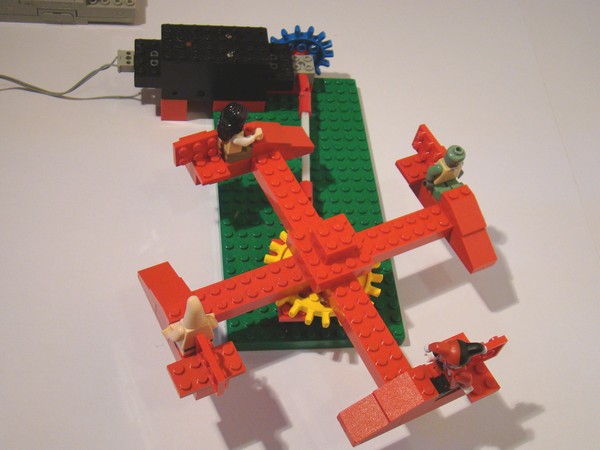 First off, I made a ride, similar to what's shown in Ideas Book 222 on page
78 and 79
.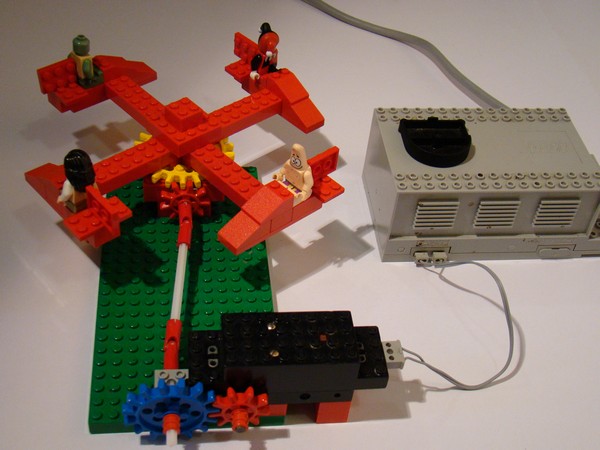 This model uses most of the parts, including the universal joints.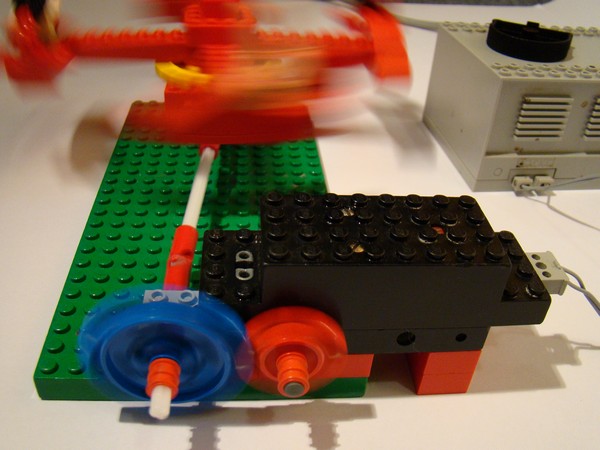 I have a 12V transformer (cost me $10 AUD on eBay!) so I plugged it in and wound it up to full power!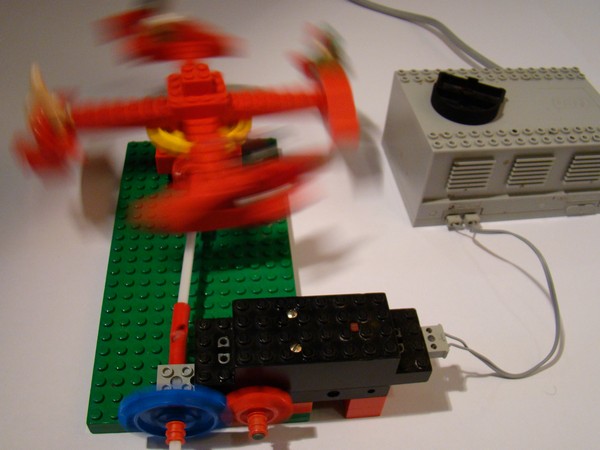 Wheee! I connected the motor via the metal pieces as the plans ask. It was a lot stiffer than I expected but it worked well. Even so, sliding the plastic brushes down the metal shaft made me cringe, and not in a good way. (If that sentence excites anyone then I suggest you get out more...)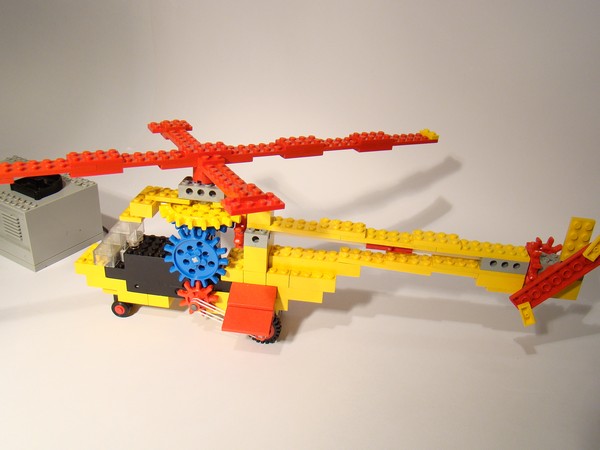 Next, I made a helicopter, similar to what's shown in Ideas Book 222 on page
78 and 79
.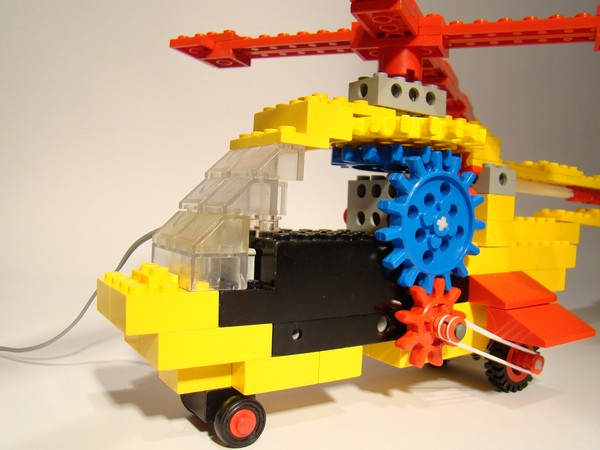 This model also uses the wheels. (The rubber bands are official but not included.)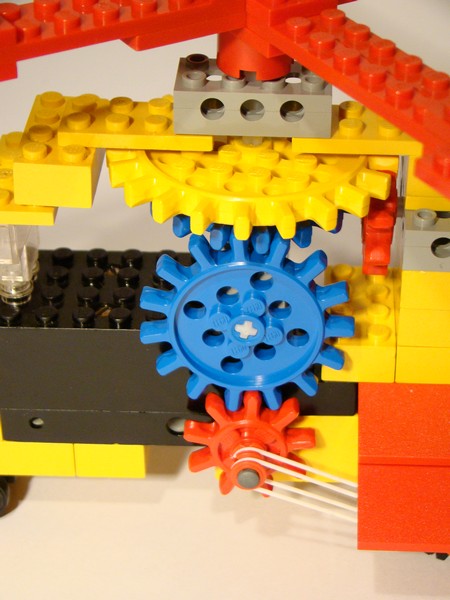 This model was highly fragile during assembly. Once together it holds OK, but pressing it together was a dangerous experience...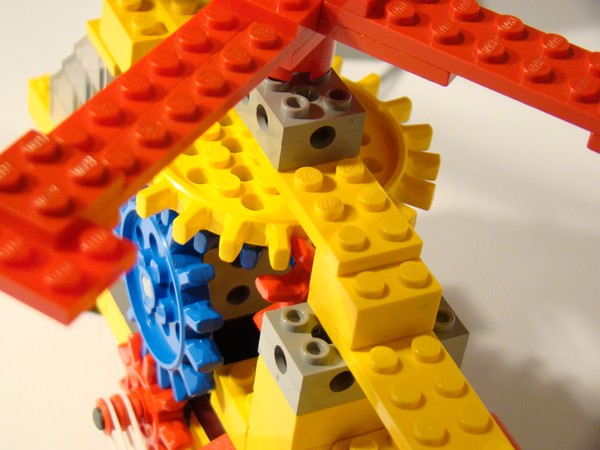 The gear train highlights the flexibility of the pieces. Like the newer bevelled gears, these can be used at a 90 degree angle. However, due to their longer teeth, these don't slip and you don't need to be so precise in the positions. How far you can push this I don't know; I'm not prepared to do destructive testing to determine the gear strength! Due to the re-enforced hubs I would expect the teeth to break first.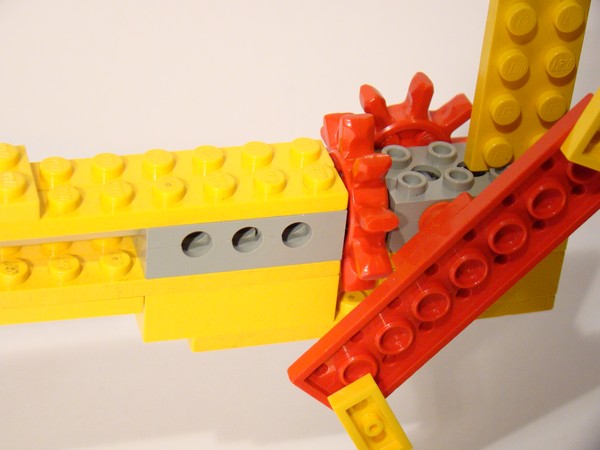 The tail connection relies on the inverse stud shape of the brushing; this technique seems to have fallen out of favour at LEGO...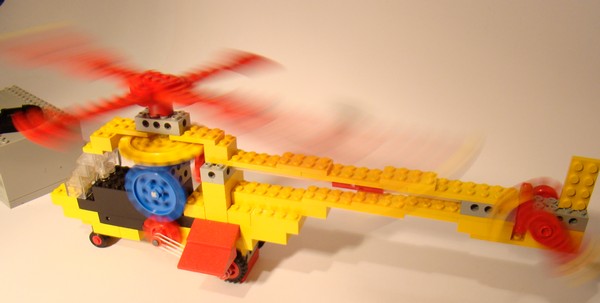 The universal joints are used here, but only as joiners. Note the rear axel is elevated to prevent it running away!
I made a video of this model and you can find it
here
.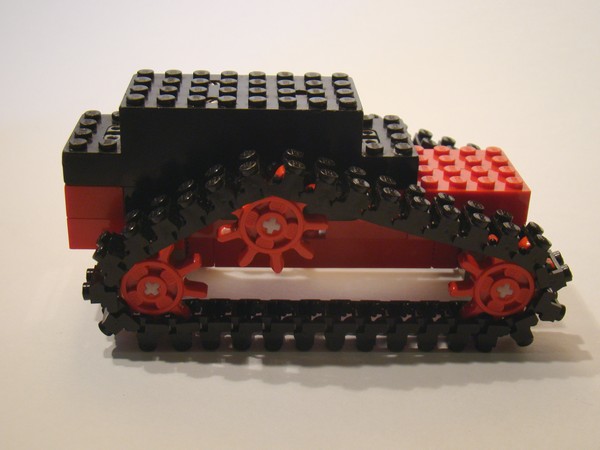 Last up, I made a simple track demonstration.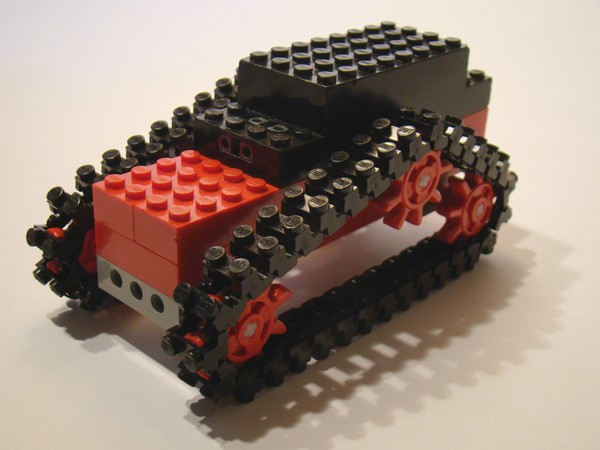 To avoid cringing I used plastic axels not the metal pieces. Assembling this was a lot harder than I expected. Due to the long teeth you need to position the tracks more accurately than you need to with later types. Thus it took me a while to find what size I needed to make what. For this reason the design is just a strong block.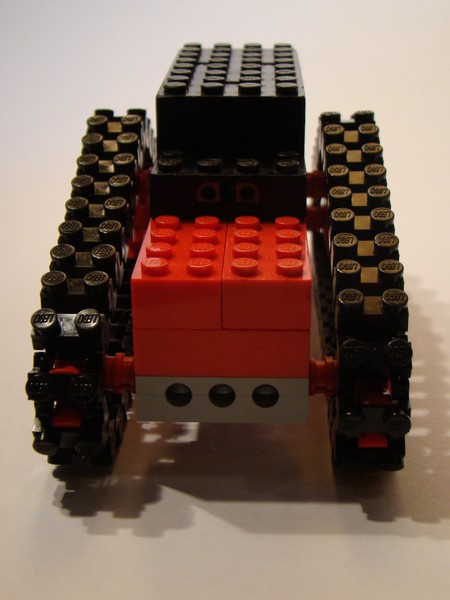 The tracks have two studs and thus are too wide to sit flush. The track is has good grip and much quieter than I expected. I made a video of this one as well, and you can find it
here
.
Overall thoughts
Well, my normal ranking system makes little sense with this set, so I'll give it a miss. But I will say that this is a great set, and I'll be sure to try to find more parts like this. It's a shame that the gears are so colourful as it does limit their use somewhat, and their relative rarity will make me reluctant to use them in any way that could damage them.
I give this set 10/10!