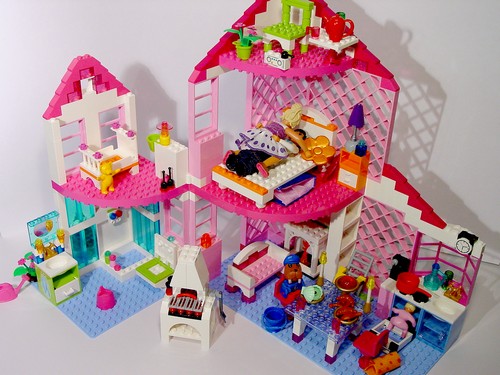 I recently bought this set for my daughters birthday. It's the first BELVILLE set that I've bought for her so it's a bit of an experiment.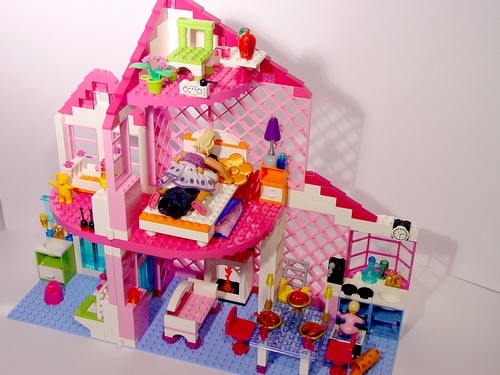 The house is 5 rooms and it's made up of mostly large pieces. There still is a decent amount of normal LEGO in it though. The doorways in the house align when it is opened out.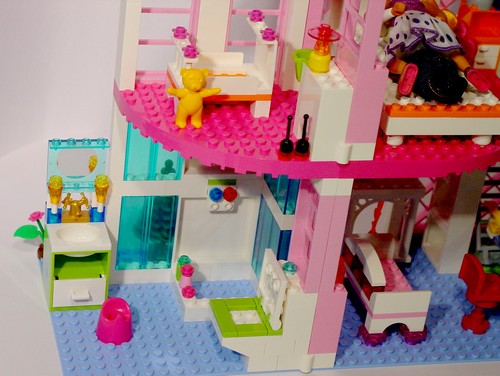 Starting with the bathroom, included is a shower, toilet, sink with vanity and a baby potty. The mirror sticker is one of the few that I put on.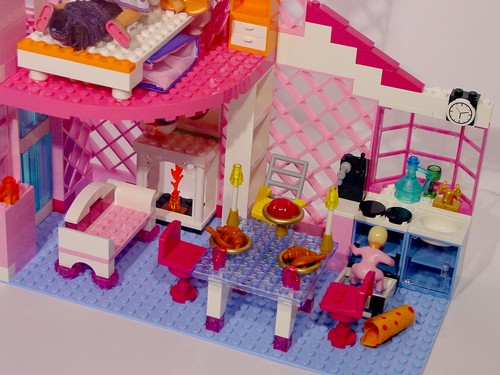 The open plan lounge/LEGO room/dining room is well appointed as well and it has a nice glass table and coffee machine. The LEGO room chairs are Fabuland parts... and don't work really well. It seems they are having jellyfish for dinner! The clock is the only printed part in the set.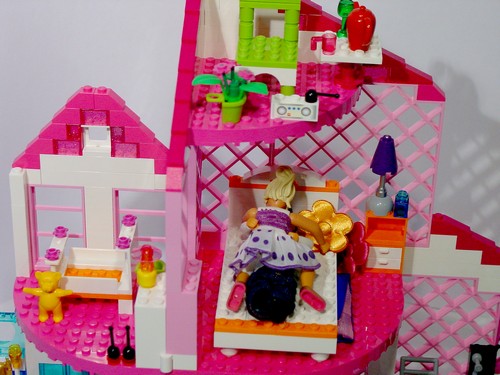 Upstairs is a baby room and the master bedroom. The radio and the TV (not shown) were stickers to my disappointment. Up top is an extra room suitable for reading. (Those antenna things were made from spare parts by my daughter. I have no idea what they are supposed to be...)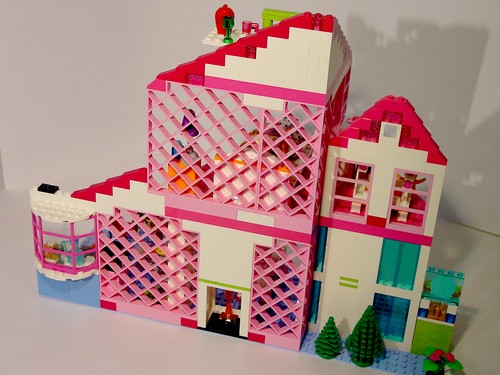 There are some stickers that go on the back, but I didn't put them on. As it is the set looks OK this way, but since it is a dolls house it doesn't really matter. I do think though that the fireplace should have been given a back.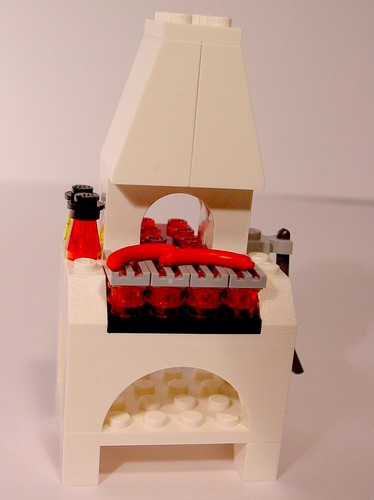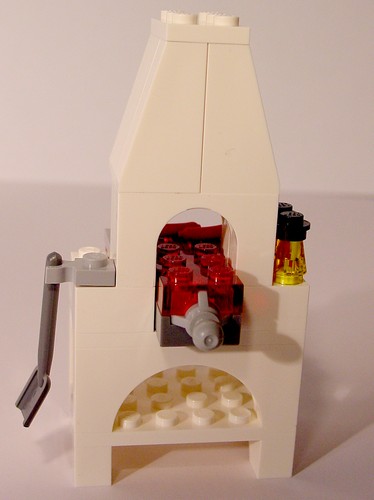 The BBQ is made from normal parts and is quite effective. I think it uses the same light brick that's in the 4998 Stegosaurus set. My kids were using it as a torch before my grumbling ruined their fun...
Like all BELVILLE sets, the highlight is arguably the accessories. I'll be borrowing a few of these from time to time...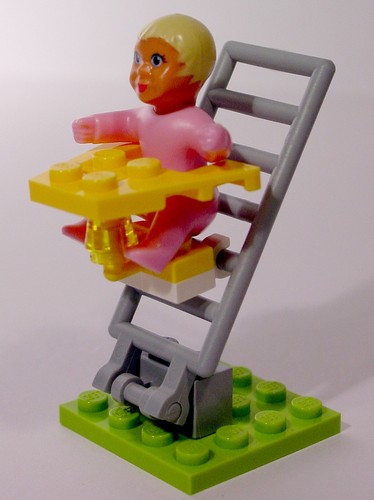 Here is the controversial
baby catapult
.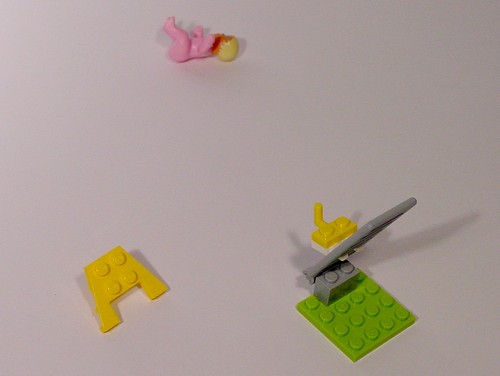 As you can see, it works OK, but LEGO probably should have tried a bit harder.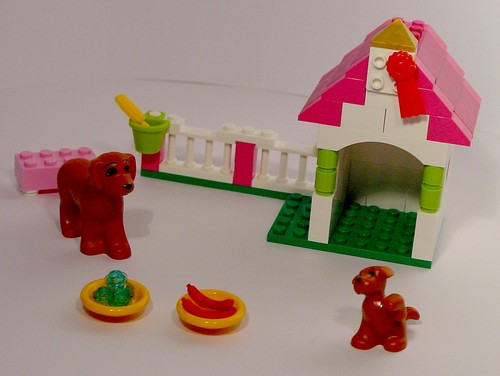 We also bought for her 7583 Playful Puppy. It also comes with some nice accessories, but not enough to justify buying unless you want the rest of the parts.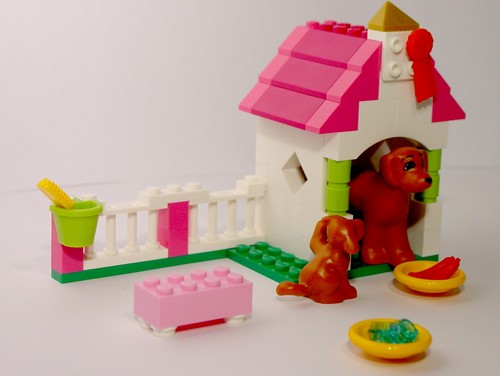 Poor puppy; where does he sleep?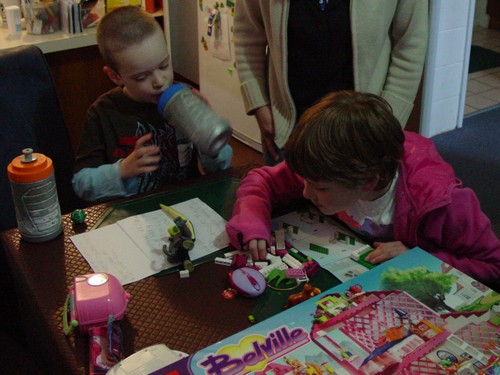 Here is my daughter assembling it. She made me make the house though as she wanted to play a game we bought her. (Note the LEGO drink bottles!)
I didn't take any photos of the figures as they don't seem to be anything new, but I can if people want me to. At the time I was in bit of a hurry as I took these before bed so I wouldn't be stressed if the kids broke it the next day. Overall, these sets seem overpriced to me, and hard to justify unless you actually want a buildable doll's house. (Which we did.) It's still too early to tell if my daughter likes it or not... but at this stage it seems she lost interest in a few days. She does tend to go back to toys though.