Edelweiss (The tank from Valkyria Chronicles)
Posted:
Sun May 31, 2009 4:36 am
I'm a fan of Anime... and a fan of role playing games,
and
a fan of tactical games so
Valkyria Chronicles
was a perfect game for me! (I've finished it twice.) So perfect that it inspired me to make Edelweiss, the main tank from the game. I'm normally not one to make MOCs rigidly based on other peoples work (fiction or non-fiction); the last I did was the Unimog road-rail vehicle.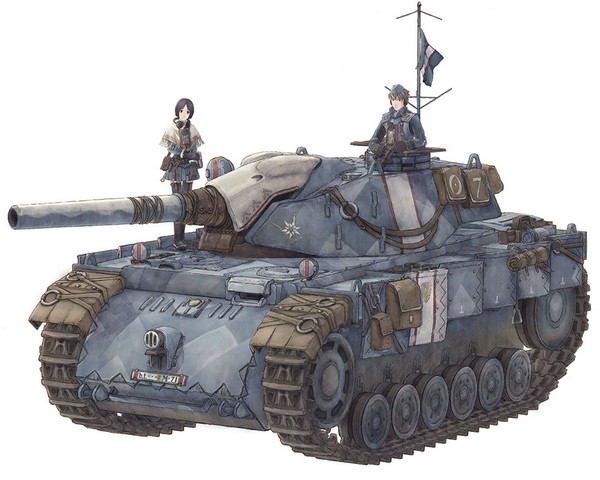 Here's what I was trying to recreate (I have more
reference pictures here
)...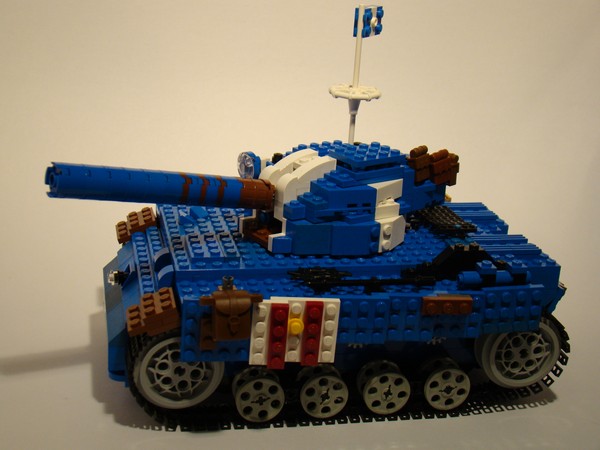 ...and this is what I ended up with! The funny thing about this MOC is I planned to make it mini-fig scale... but I failed to make that my priority while building. While building I set the scale based on the tracks... and that was my mistake. But more on that later! At first I was going to use the standard large technic cog as the drivers, but I decided to change it to the wheels as I felt that they looked closer. (This did ruin my plan of making the tank remote control as well.)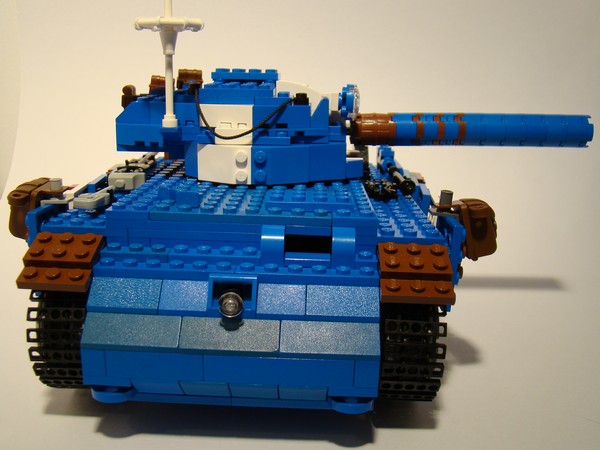 The turret rotates 360 degrees and the barrel elevates and depresses.
What's the deal with those grills? In the game all tanks have heat radiators there as a deliberate weak point. While moving they glow blue. I wanted to do that but I had substantially less trans-blue than I thought. Thus I went for the 'inactive' look!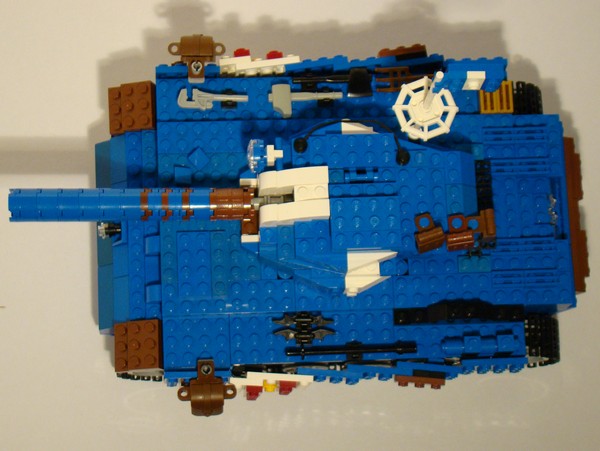 The tread skirts were a huge pain to design... and I was never 100% happy with them due to fragility issues. (The model is sturdy, but not fully kid-safe, which is generally my goal.)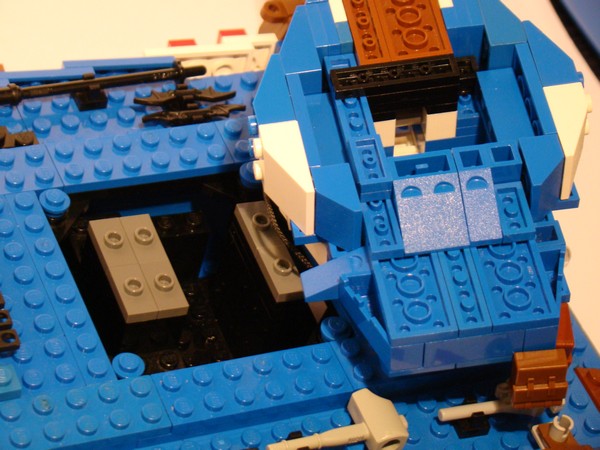 This photo shows (but not as well as I hoped) the depth of the turret. Most tanks have turrets like this so it was a goal of mine. You can also see the wacky inside of the turret top. It was hard to achieve the shape I wanted while allowing a entrance. In the end I was largely happy with this, and it ended up being stronger than I expected. It took several rebuilds though... (I have photos of the
build process here
.)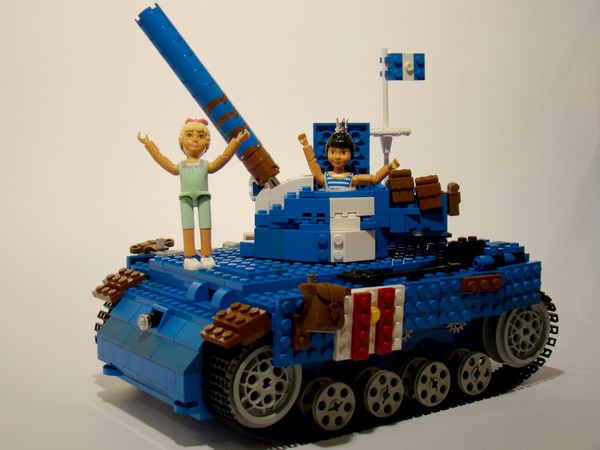 Getting back to the scale issue, this is the scale I ended up with. Belville girls playing with a tank wasn't what I had in mind, but it's a case of liking or lumping it!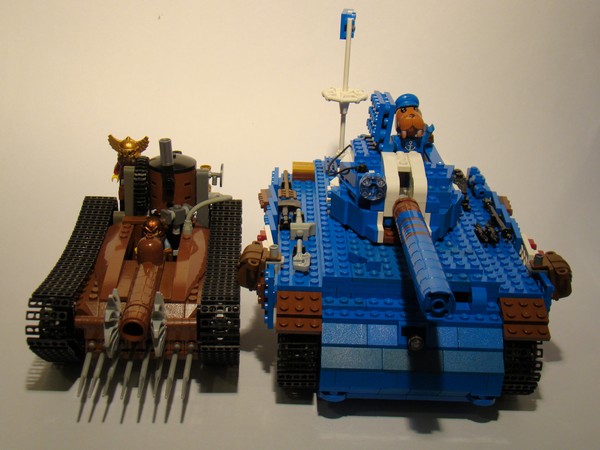 Here's a comparison with my other 'tank'. It's substantially bigger, and seeing I knew from last time that the standard tread is too big for most mini-fig scale tanks I should have taken the hint from other tank builders and used the thinner chain link. So why didn't I? I don't have that much actually! To make this I had to scrap my Tie Crawler... So I'll have to Bricklink some chainlink and give building tanks another go later. Since I went for pre-history last time, history/present this time, perhaps I should go for future next!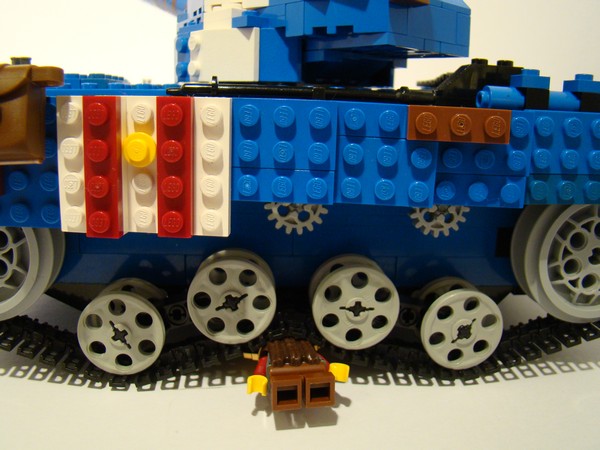 On the subject of dwarves, the tank has simple suspension so it goes over small objects without lifting the tank.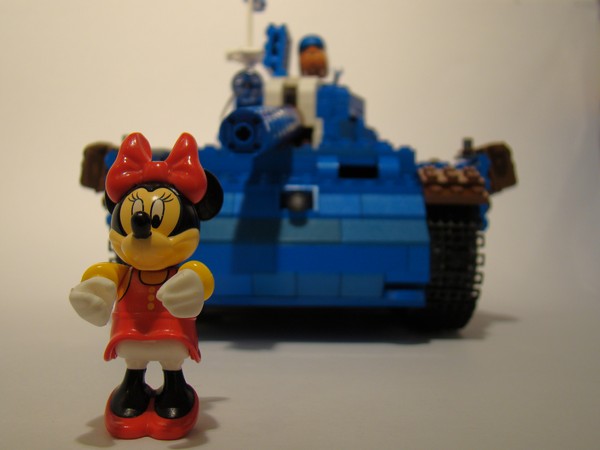 However, while hunting larger prey such as oversized mutant mice...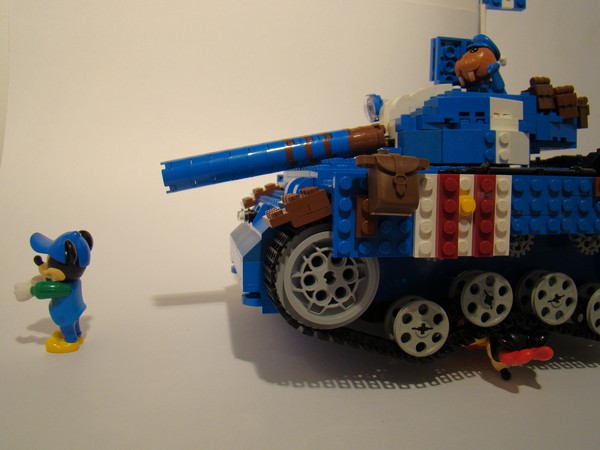 ...there will be lifting which annoyingly can affect targeting.
This model is considered finished, but I'll probably be tweaking it from time to time. If you think I could do anything better feel free to post suggestions.
Build Process
Photo Reference