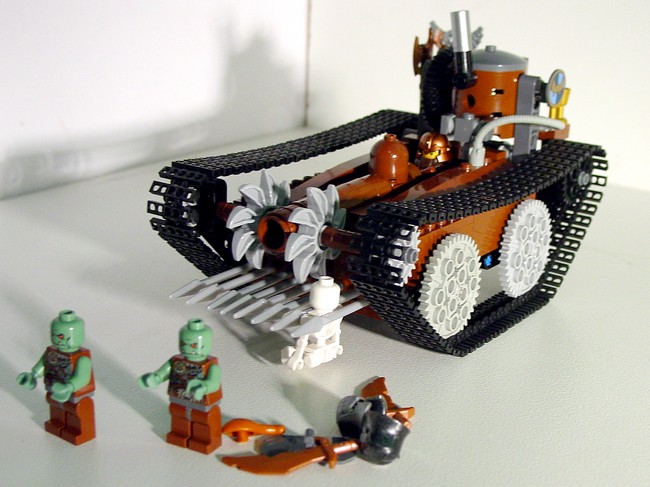 Galnor Brighthelm was known around the mine as a heavy drinker... and if Dwarves start saying that of someone it truly means something!
To him though it was more than just the drinking; he loved to make his own as well, perhaps more so. His favourite drink was Bourbon, and he never found enough time to make enough of it. His stocks were running low one day and he had planned to make a new batch on the coming weekend when disaster stuck; the King had decided that the weekend was a good time to remind the goblins and trolls who was boss around the mountain. Galnor was furious... but as the saying goes "necessity is the mother of invention"; Instantly he decided that he needed to make his distilling more portable and efficient! First of all he thought that he would save some time by moving his fermenter and his distiller on a mobile platform so he could take it with him during those constant campaigns. This was harder than he thought as he soon found that wheels became bogged too easily. Thus he added a flexible portable road around the wheels and he found they worked much better. To save further time he added a digger, shredder and collector unit to the front of his device so he could find vegetation to ferment while he pushed it around. While this was a good idea, it all became too hard to push for even a dwarf. At this point his greatest idea happened; why not try to use the heat from his alcohol powered still to move the platform? This was harder than he thought, but eventually he designed a turbine that fit inside... this went on and on but by Friday evening, after three sleepless nights, he was ready for a test run! He jumped in and to his surprise it worked. He realised straight away a flaw in his design; he couldn't see above the fermenter... but he took it out for a spin anyway! All night he drove around, mulching, fermenting and distilling as he went. and by 6am he had a full barrel of double distilled alcohol. Eagerly he climbed onto the back and gave it a quick try... and it was good! The flavour was a bit strange, but it sure was interesting!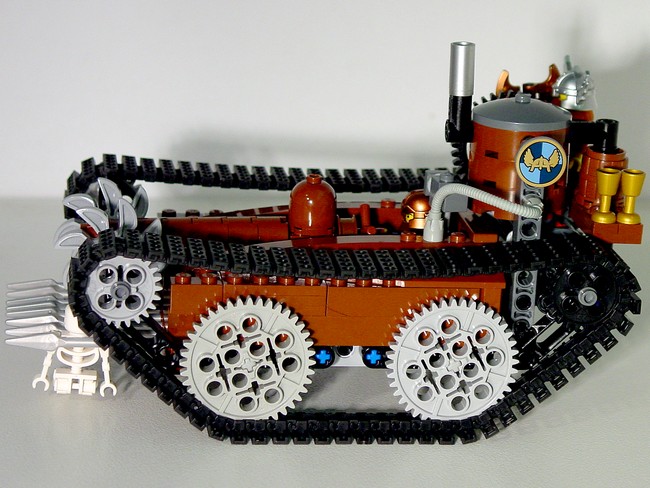 He sealed up the barrel, and grabbed his hammer as he knew it was time for war. He was tired, but Dwarves are long used to that as they frequently march for days when on campaign. By lunch they arrived at the camp, and instantly charged into battle... but there was nothing left to fight! The entire goblin camp was flattened... with the only sign of the culprit being a track though the forest leading back to..
"The mine!" yelled the King, "Whatever did this is heading back to the mine!" They reformed their ranks and charged back home, arriving in half the time it took the first time... but the mine was untouched... and the tracks ended at...
"Oh." said Galnor a bit sheepishly "No wonder it tasted a bit odd. Hmmm....I wonder what dragons taste like..."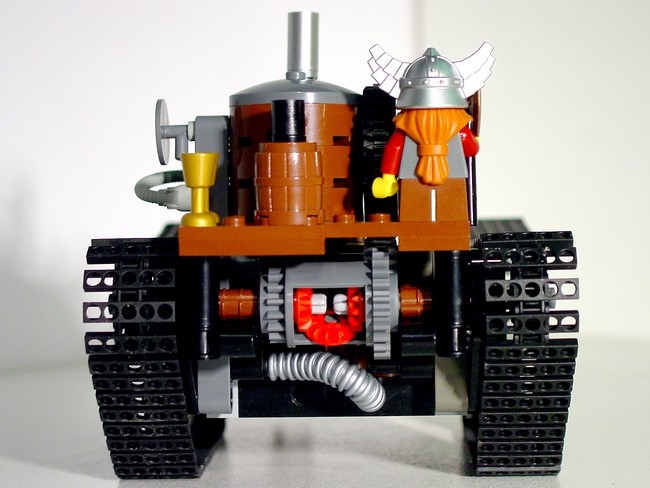 Galnor was promoted to Chief Designer of the mine that day, and many mugs of Galnor's alcohol were raised that evening to his victory... although many a dwarf was displeased that they missed a good fight. Ever since that day, Galnor's Mobile Still has been used whenever the dwarves go to war, but they are sure to have a spotter on the barrel platform to make sure Galnor doesn't mulch the wrong army.
Now the dwarves can say that they truly know the taste of victory....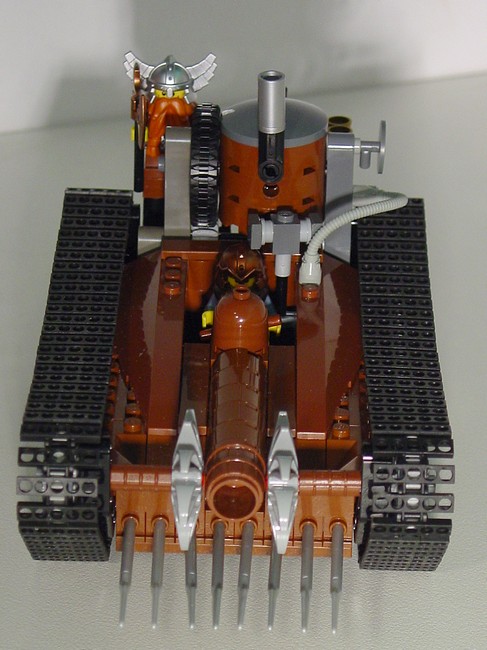 As a footnote to this story, the collector was found to be useful as a weapon of last resort when it was accidently overloaded causing it to spew high pressure fermenting vegetation (and goblins) over the enemy... but that's another story.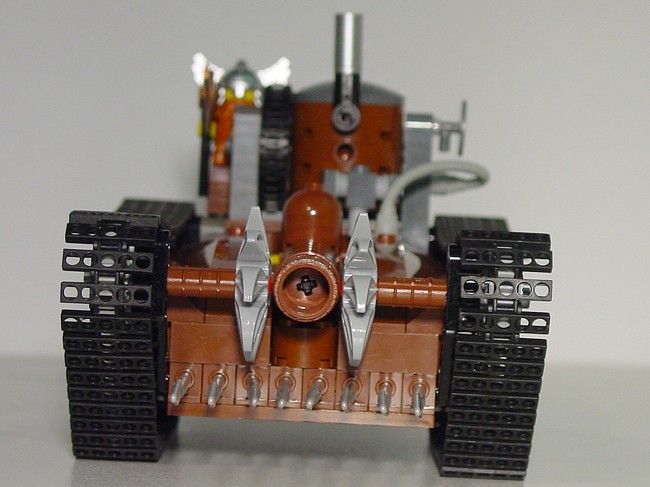 Boring note by the creator:
I've been wanting to make something dwarvish, something steam punk and something with tracks.... so I decided to save time and do it all at once!
I hope you like it.